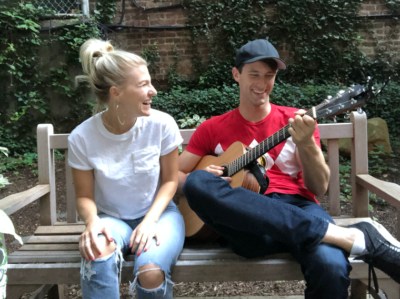 Welcome CJ Pawlikowski and Kasie Gasparini as Music for Autism's 2021 Spotlight Artists!
Music for Autism is thrilled to announce that Broadway stars and frequent songwriting partners, Kasie Gasparini and CJ Pawlikowski are our 2021 Spotlight Artists.
The Spotlight Artist distinction is Music for Autism's recognition of not just exceptional musicianship but also dedicated service to those with autism and their families.
"CJ and Kasie embody the heart and soul of Music for Autism," remarked Dr. Robert Accordino, US Founder and Chair of the Board. "Their exquisite musicianship is only exceeded by their generosity of spirit as they welcome each member of the audience into the concert experience and create a space for all types of creative expression."
We are so pleased to be able to bring such talented and giving artists together with our families for free, interactive concerts that can be enjoyed by all. With our pivot to virtual concerts during the COVID-19 crisis, even more audiences across the United States can enjoy the work of these incredible musicians.
Learn more about our past Spotlight Artists and join us in welcoming CJ and Kasie to this esteemed group of performers!