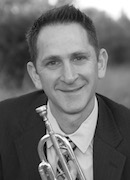 Ryan Gardner named International Trumpet Guild's Vice President/President-Elect
Dr. Ryan Gardner, Music for Autism's irreplaceable Artist Coordinator, has been named the International Trumpet Guild's Vice President/President-Elect, and we could not be more excited for this exceptional member of our team. We know Ryan to maintain the highest of professional standards—both for his own artistry as well as those of the artists he recruits and trains for our free concerts for individuals with autism.
The International Trumpet Guild is a worldwide organization of trumpeters, formed to promote communication among trumpet players around the world and to improve the artistic level of performance, teaching, and literature associated with the trumpet.
Ryan's dedication to his craft has earned him accolades both across the United States as well as internationally. As Associate Professor of Trumpet at the University of Colorado, Boulder, he has one of the most visible and distinguished trumpet programs in the country. Within the last six years, Ryan's students have won every collegiate division at the National Trumpet Competition, performing to standing ovations and graduating on to their own prestigious careers in the field.
We are beyond thrilled for Ryan to be recognized with this responsibility and know he is going to take the International Trumpet Guild to new and exciting heights! Thank you, Ryan, for being such an important part of the Music for Autism family.