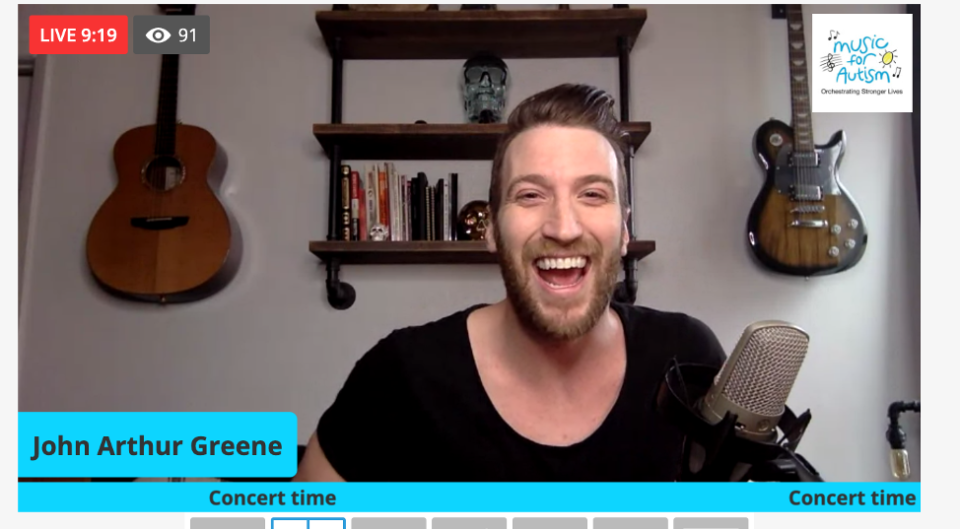 One Year of Music For Autism's Virtual Concerts
It has officially been one year since Music For Autism, as well as so many other performance spaces, was confined to the virtual world. It also seems fitting that this week marks the end of Autism Awareness and Acceptance Month, which is a time to celebrate the wide spectrum of autistic experiences and elevate autistic voices and artists; Music For Autism is proud to provide concerts that celebrate how autistic individuals express themselves while engaging with musical spaces.
Since April 18th, 2020, Music For Autism has hosted online concerts almost every two weeks, live streaming on YouTube to autistic individuals and their loved ones across the nation. M4A has welcomed artists such as Jade Simmons, Empire Wild, Invoke, John Arthur Greene, and so many more. In February of 2021, M4A even hosted a live, virtual fundraiser featuring over 16 artists from stage and screen alike.
From Broadway and jazz to fun takes on classical music and M4A's first solo percussionist, every concert provided a unique musical experience for M4A's virtual community. While the energy of a show streamed on YouTube is hardly the same as an in-person show in which the audience can interact and play with the performers judgment-free, each M4A artist—including our charming Emcees—brought a level of enthusiasm and engagement that made even the virtual concert space feel electric.
While Music for Autism has been grateful to reach so many more families through our virtual programming, we recognize that this year has been filled with unprecedented hardships and tragedies that cannot be overstated. It is difficult to call anything a "silver lining" during this pandemic; however, the virtual world has undeniably facilitated new connections across time zones, and even across the world.
M4A is hopeful that we have been a source of respite for families who may be dealing with unimaginable sorrows. We are also very grateful to our audiences who have continued to financially support us this past year; we wouldn't be able to provide these concerts without that support, no matter how small.
In this period of hyper-isolation and loneliness, Music for Autism is committed to providing spaces for families to connect with music, with our artists, and most of all, with each other.