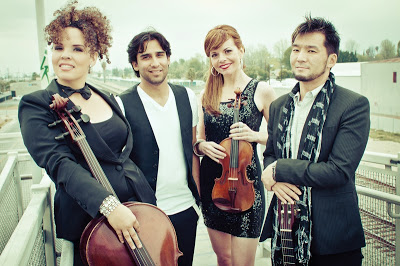 Recent LA Concert Features Latin Grammy Nominated, Quattro
By Jane Dobkin.
Our most recent LA concert, on October 13, in partnership with The Help Group, featured the recently Latin Grammy nominated Quattro.  It was a very exciting concert for both members of the audience and for the group performing.
Quattro is composed of four accomplished musicians: Giovanna Moraga Clayton, Lisa Dondlinger, Kay-Ta Matsuno, and Jorge Villanueva. The group blends classical crossover, Latin pop and contemporary jazz and was energized for the M4A concert and played appropriate music for the concert participants.
Dr. Barbara Firestone, a board member of M4A and President and CEO of The Help Group said, "Quattro is amazing! Their artistry, enthusiasm and warmth created a truly unforgettable experience for all of our young people and their families."
Quattro also highly enjoyed the experience.  They reflected that their Music for Autism performance was one of their most meaningful and fun.  The group was very excited to perform and said, "To see the light in the children's eyes and the smiles across their faces was a beautiful sight.  It was amazing to watch families connect and children engage in response to the power of music.  There was so much energy in the room that the audience broke into a conga line several times!  We were honored to share our music and love with all of the special families that attended."
Thank you to Quattro for such an amazing M4A performance and congratulations on the Latin Grammy nomination.  And thank you to everyone who came out and supported this event in partnership with The Help Group!