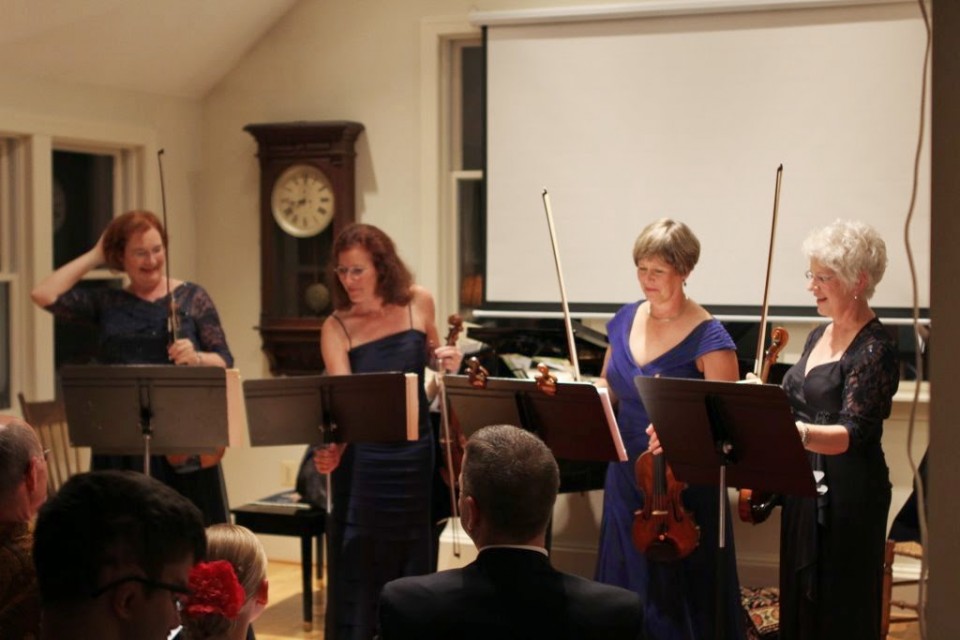 Viva Violins Final Concert Celebrates the Work of Music for Autism in Maryland
By Lisa Olson and Jane Dobkin.
On June 8th, in the home of of Jackie and Bill Anderson, Viva Violins held its farewell concert after playing together for twenty years and raised funds to support the work of Music for Autism. The concert, organized by Board Member Holly Hamilton, featured the violin quartet composed of Holly, Elisabeth Adkins, Paula Akbar, and Jane Stewart, all of whom are in the First Violin Section of the National Symphony Orchestra. These four performers have more than a century of experience with the Orchestra!
On the extraordinary salon concert, Board Member Lisa Olson commented, "it was a profound privilege to be in the presence of such beauty."
During the evening, Holly spoke of the important work of Music for Autism. She began with a personal story about her introduction to music, specifically the violin and how her world completely opened up when she heard Itzak Perlman perform when she was ten years old. She continued by saying, "So, imagine a child with autism who cannot attend a regular concert because of challenging behaviors. Imagine the parents of a child with autism who cannot experience such life-changing moments. Imagine a concert where wonderful music is played, where children are free to express themselves, where parents can relax. I have just described a concert presented by Music for Autism."We are grateful to Holly and her fellow performers in Viva Violins for creating such a remarkable evening. We thank our Board Member Jan Wintrol for generously catering the evening too and our hosts, Jackie and Bill. A huge thank you too to all our supporters in the greater DC area who attended and supported the work of Music for Autism!