In-Person Concert with Soprano Kari Paludan and Pianist Nikola Paskalov
---
April 15, 2023
Ivymount School - Rockville, MD
We're thrilled to be back with Ivymount!
1PM – 2PM
11614 Seven Locks Rd,
Rockville, MD 20854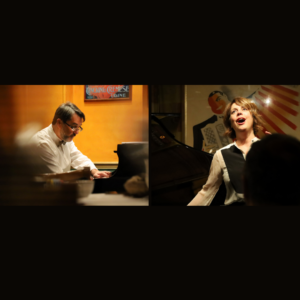 An "outstanding voice," according to the Washington Post, soprano, Karin Paludan works in opera, recital, cabaret and musical theater, and also works extensively in educational and community outreach through Washington Performing Arts, the National Symphony Orchestra and Music For Autism. Performing as a soloist in opera and recital and as one half of The Paludan Sisters, she has performed throughout the United States with such companies as New York City Opera, The Kennedy Center, The Library of Congress, The National Gallery of Art, and the Smithsonian.
Praised for his "brilliance in expression . . .illuminated by gentle intensity," pianist, Nikola Paskalov, has actively performed internationally, having given solo and chamber music concerts throughout Europe and USA. He has appeared as a soloist numerous times with the Macedonian Philharmonic Orchestra as well as the Sarajevo Philharmonic Orchestra, and the Symphony Orchestra of the
Croatian Radio. Recently he gave a solo recital for the "Pianists of the World" concert series at St. Martin-in-the-Fields in London, made his debut recital at Carnegie Hall in New York and performed with
Bowen McCauley Dance at the Kennedy Center in Washington, DC.
Join Kari and Nikola for our first in-person concert with Ivymount school since 2019!
Please RSVP using the form below. If you have any trouble using this form, you can RSVP by emailing rsvp@musicforautism.org.