Artists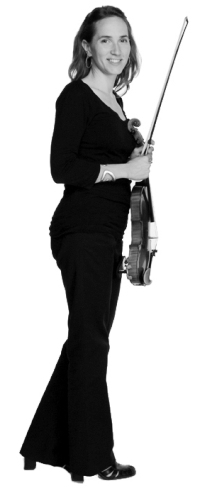 Sarah Thornblade
Sarah Thornblade, who first joined the Los Angeles Chamber Orchestra in 1999, is the Orchestra's associate principal second violin. The Los Angeles Times describes her playing as "rapturously winning" and the Santa Barbara News writes that she is a "marvelously versatile violinist."
Sarah is a member of both the Eclipse Quartet and Xtet, both ensembles dedicated to performing 20th century and contemporary music. Eclipse is a visiting artist at Mills College and a resident artist at Villa Aurora in the Pacific Palisades. Recent premiers by the quartet include works by Peter Garland, Chico Mello, Stephen Cohn and Zeena Parkins. The quartet is the recent recipient of an Aaron Copland Fund recording grant and has recorded for Tzadik and for an upcoming release on Bridge records.
Sarah is a former member of the Denali Quartet and a former founding member of the Arianna String Quartet, which has been a grand prize winner at the Fischoff National, Coleman and Carmel chamber music competitions. She has also performed with Camerata Pacifica, Jacaranda Music and Auros Group for New Music (Boston). Sarah has performed throughout the country and abroad at festivals including the Tanglewood and Spoleto music festivals; the Look & Listen and Oregon Bach festivals; and the Norfolk, Steamboat Springs, Banff and Portland chamber music festivals. She has collaborated with artists such as Gilbert Kalish, Jeffery Kahane, Andres Cardenes, Randall Hodgkinson and Warren Jones.
Sarah is on the faculty of Pomona College and is also an active recording musician for film and television. She holds degrees from Indiana University and Northern Illinois University and studied with Miriam Fried, Mathias Tacke and Shmuel Ashkenasi.

© 2016 Music for Autism All Rights Reserved. Use of this website is governed by the
User Agreement
. The contents contained on this website is provided to users "AS IS" without any express or implied warranty. For information on your privacy, please read our
Privacy Policy
.
955 Clayton Street, #1, San Francisco, CA 94117 | (646) 964-6487