Artists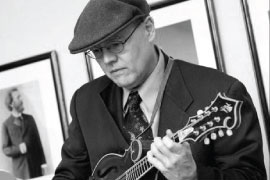 John McGann
Fingers racing at the hound-chased tempo bluegrass commands, John McGann performed masterfully on the mandolin as he taught and inspired students at Berklee College of Music about the breadth and depth of traditional acoustic music.
Jazz drew from him equal proficiency and the kind of mandolin solos that could leave listeners wondering what sound would have emerged if the giants of jazz had learned to play on backcountry porches in Appalachia.
A multi-instrumentalist whose playing was in demand around the world, Mr. McGann wore his talent lightly, whether performing alone or as part of an ensemble.