Artists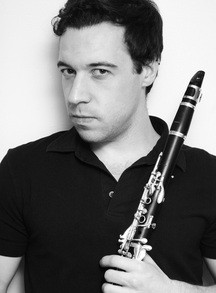 Jesse Gilday
Jesse Gilday is an active orchestral, chamber, and solo clarinetist, bass clarinetist, and teacher. A finalist in the 2012 International Clarinet Association's orchestral audition competition, he serves as principal clarinet in the Ars Viva Chamber Orchestra of Tarrytown, NY, and the NYU Symphony. Jesse has also performed with the One World Symphony (NYC) and the Cape Ann Symphony (MA).
In addition to his frequent collaborations with composers and vocalists, Jesse is co-founder of three New York City instrumental chamber ensembles: Altius Winds, a woodwind quintet of young professionals, Trio Passionné, with flutist Gina Izzo and oboist Kimberly Everett, and ClariCity with Megan Shumate.
Recipient of a Steinhardt Doctoral Fellowship at New York University, Jesse also held a graduate assistantship in clarinet at Baylor University (TX) and received his BA from Gordon College (MA). Jesse's teachers include Pascual Martinez-Forteza, Dennis Smylie, Richard Shanley, Alan Olson, and William Kirkley. He has participated in the Scotia Festival of Music and the University of Nebraska – Lincoln Chamber music institute. Jesse enjoys weightlifting, Irish dancing, and all things Francophone.