Artists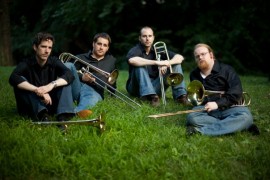 Guidonian Hand
Acclaimed by the New York Times for their "expertly played" performances displaying "meaty lower brass textures," the Guidonian Hand is America's leading modern trombone collective.
Tireless advocates for contemporary music, this adventurous ensemble collaborates frequently with living composers.  The Hand has commissioned numerous new works and received grants from organizations such as Chamber Music America, the Barlow Foundation, the Jerome Foundation, and New Music USA (formerly Meet the Composer). In addition to modern literature, the Guidonian Hand gives a fresh voice to classical repertoire, juxtaposing art music of the past with modern works.
An exhilarating addition to New York's vibrant music scene, the Hand has performed extensively in the New York metropolitan area at such venues as the Lincoln Center Chamber Music Society, River to River Festival, Le Poisson Rouge, The Stone, The Juilliard School, Galapagos Art Space, Roulette, Manhattan School of Music, The Tank, Mannes College of Music, New York University, the Bang on a Can Marathon, and the Tribeca New Music Festival.  They also contributed material to the soundtrack of Matthew Barney's new film, The River of Fundament.
The Guidonian Hand is Mark Broschinsky, Will Lang, Sebastian Vera, and James Rogers.