Artists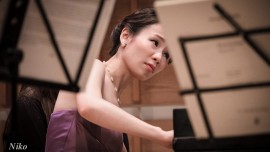 Gloria Shih
Born in Taipei, Taiwan, Gloria Shih has received several awards including First Prize in the Taipei Piano Competition, Second Prize in the Taipei chamber music competition, and First Prize in the Schimmel Piano Competition. Ms. Shih earned her Bachelor's degree at Soochow University as a protégé of the renowned Se-Se Chang, and has appeared in numerous solo and chamber music performances throughout Taiwan. Having earned her Master's degree as a scholarship student under Lilian Kallir at the Mannes College of Music, she received a full scholarship to study with Christina Dahl at Stony Brook University. She received her doctorate degree from Stony Brook University in May, 2005.
Ms. Shih, the pianist of GracieuxTrio, has worked with members of the Emerson String Quartet, members of the Meridian Arts Ensemble, and members of the Metropolitan Opera. Her performances have included venues such as Carnegie's Weill Hall, Merkin Hall and Oji Hall in Tokyo. She has received critical acclaim for her performances throughout Asia, Europe and North America, including engagements in Philadelphia, North Carolina, Westchester, California, Maine, Maryland, Oregon, England, Japan, and South Korea.
Ms. Shih also serves on the faculty of Montclair State University and Brooklyn-Queens Conservatory of Music.