Artists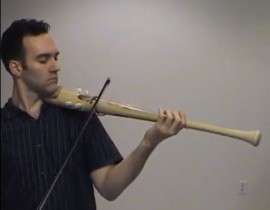 Glenn Donnellan
Glenn Donnellan, violinist in the National Symphony Orchestra, is a native of Washington State. He joined the National Symphony Orchestra in 1997. He earned his Bachelor of Music degree in violin performance at the University of Minnesota under Almita and Roland Vamos. He continued studies with Jorja Fleezanis as a member of the University of Minnesota Graduate String Quartet and moved on to being a professional freelance musician in the Twin Cities until joining the NSO.
In Minnesota Mr. Donnellan played with the Minnesota Orchestra, St. Paul Chamber Orchestra, and Minnesota Opera. With the Minnesota Orchestra he performed as a soloist on the Hardanger Fiddle (the Norwegian national folk fiddle) in their 1993 performance of Grieg's Peer Gynt. The Hardanger Fiddle is part of his Norwegian family tradition.
Since joining the National Symphony Orchestra, Mr. Donnellan has performed around DC, including: NSO Prelude Concerts, Rockville Jewish Community Theater, the Smithsonian, the Holocaust Museum Chamber Music Series, 20th Century Consort, Eclipse Chamber Orchestra and National Musical Arts.
Mr. Donnellan's primary outreach activity is through National Symphony Orchestra programs. He gives nearly 100 performances throughout the DC public schools each year, and presents performances for young audiences in the Kennedy Center Family Theater and other venues. He performs these same outreach programs for thousands of children annually during the NSO American Residency, which takes place in a different state each year.

© 2016 Music for Autism All Rights Reserved. Use of this website is governed by the
User Agreement
. The contents contained on this website is provided to users "AS IS" without any express or implied warranty. For information on your privacy, please read our
Privacy Policy
.
955 Clayton Street, #1, San Francisco, CA 94117 | (646) 964-6487