Artists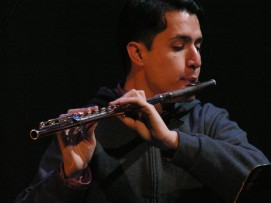 Felipe Tristan
In 2011, Felipe was awarded the Kenan Performing Arts Fellowship at Lincoln Center Institute, a prestigious program for emerging artists that culminated in his successful NYC Debut Performance Recital on the Lincoln Center campus which was entitled "Viva La Flauta!", a celebration of flute music from the Americas.
Following his soloist debut at age 17, in Monterrey, Mexico, Felipe performed with different orchestral and chamber ensembles in Mexico, his native country, as well as in the United States and Europe under the baton of Mark Laycock, Ransom Wilson, Charles Barker, Anatoly Zatin, Jamie Albritten, Franz Anton Krager, Román Revueltas, Viswa Subbaraman, Ramón Shade, Lucy Arner, Enrique Barrios, among others. Furthermore, he was selected for the National Youth Orchestra of Mexico for two consecutive years, performing in the major concert halls of that country.
During his residence in Houston, Felipe performed regularly with AURA Contemporary Ensemble and with Opera Vista. He has been awarded prizes and scholarships from organizations such as the Winston-Salem Foundation, DW Productions, Organization of American States OAS, CONARTE, among others. He has collaborated with such composers like: Samuel Adler, Daniel Catán, Robert Dvorak, Joan Tower, Dan Welcher, Lawrence Dillon. Also, he has performed in master classes for artists like Patrice Bocquillon, Karen Bogardus, Kim Clark, Immanuel Davis, Michel Debost, Robert Dick, Wolfgang Dünschede, Paul Edmund-Davies, Jean Ferrandis, Katherine Kemler, Tara Helen O'Connor, Keith Underwood, Miguel Angel Villanueva, among others.
Additionally, Felipe is a devoted teacher, being a former faculty member of various schools in Mexico, Texas, North Carolina and New York in places such as the Escuela de Artes Musicales de Monterrey, the University of Houston – Preparatory and Continuing Studies, Cy-Fair Independent School District, Austin Independent School Districtand Jackson Music Studio, in North Carolina. Currently, he enjoys teaching privately for Little Chopins, LLC an all-art-inclusive and innovative program in New York City.
Felipe holds bachelor's and graduates degrees in Music, Communications and Marketing from the Escuela Superior de Música y Danza de Monterrey, Universidad Regiomontana, Moores School of Music at the University of Houston and the University of North Carolina School of the Arts. Among his flute and orchestral conducting teachers and mentors are Tadeu Coelho, Ransom Wilson, Aralee Dorough, David Garcia, Sydney Carlson, Jennifer Keeney, Franz Anton Krager, Luis González and Carolina Garza. He currently resides in New York City where he is the Coordinator and Manager of Artistic Programming at Renewal, LLC and performs regularly with various orchestral and chamber groups in the area.