Artists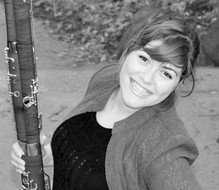 Diane Ortega
Diana Ortega began the bassoon at age of 12, and shortly after a year of playing music was accepted into the prestigious preparatory program at the Juilliard School. In 2001, Ms. Ortega began her high school years at the "Fame school" formally known as LaGuardia High School for the Performing Arts, and by her junior year won the Lincoln Center's Young Chamber Competition.
Ms. Ortega holds a B.M. from New England Conservatory, has course work in music performance and bassoon pedagogy from the Jacobs School of Music, and training in Dalcroze Eurhythmics from the Dalcroze institute at the Juilliard School. She has studied privately with Suzanne Nelsen, William Ludwig, Gregg Henegar, Marc Goldberg, and Monica Ellis; and has been coached by the Imani Winds and the Quintet of the Americas.
She has performed with the Boston Philharmonic, Boston Opera Collaborative, La Filarmónica Joven de Colombia, Youth Orchestra of the Americas, and New England Conservatory Philharmonia Orchestra. Ms. Ortega is currently a freelance bassoonist in New York City, and a teaching artist that specializes in integrating the arts with NYC Math, History, and English Language Arts State Standards.
Ms. Ortega is currently a music educator for the Children's Aid Society, music facilitator for The Leadership program, and a Professional Developer/Teaching Artist for the Arts Learning Leads to Literacy (ALLL) program at LeAp. She has held positions as a Teaching Artist at the Mosaic School in Harlem, NY, and at the Josiah Quincy Upper School in Boston, MA,