Artists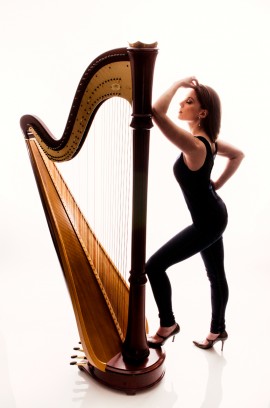 Caroline Cole
Winner of the 2013 Astral Artists National Auditions, The Juilliard School Robert Wayne Barlow Prize in Harp, two Canada Council for the Arts grants and the Canada Council J.B.C. Watkins Award. Ms. Cole is the only harpist to ever receive The Sylva Gelber Music Foundation Award and has twice received second prize at L'Orchestre Symphonique de Montréal Standard Life Competition as well as the prize for best performance of a contemporary work at the 2010 competition.
Ms. Cole has been a featured performer at prestigious harp events throughout Canada and the U.S., including the Eleventh World Harp Congress in Vancouver, B.C., the Saratoga Harp Colony in New York, the Young Artist's Harp Seminar in Georgia, and the American Harp Society in Toronto.
Ms. Cole received a Master's of Music degree in 2011 from The Juilliard School where she studied with Nancy Allen and a Bachelor of Music degree from the University of Toronto in 2009 under the tutelage of Judy Loman.
As an advocate of new music, Ms. Cole founded the Moirae Ensemble with flutist Fiona Kelly and soprano Catherine Hancock in 2010, a group passionate about presenting the music of current composers and raising global awareness for women's rights. The group has commissioned works from such composers as Libby Larsen and Evan Fein and achieved non-profit status in 2012.
She is also co-founder and member of The Canadian Harp Duo with harpist Angela Schwarzkopf. The Canadian Harp Duo will make its debut this June performing Canadian Composer Marjan Mozetich's double harp concerto The Passion of Angels with Symphony by the Bay in Hamilton, Ontario.
Ms. Cole's skills take her outside of the classical music genre to Broadway, jazz, pop, and film music. She regularly performs for The Fantasticks off-Broadway, the world's longest running musical, with several chamber groups in New York City and has performed with such artists as pop star Barry Manilow, and internationally acclaimed jazz musicians Pascal Le Boeuf, Remy Le Boeuf, and Mike Ruby. Her first film recording, Sedona soundtrack received Film Score of the Year Award from Pheonix Music Awards in 2011.​