Artists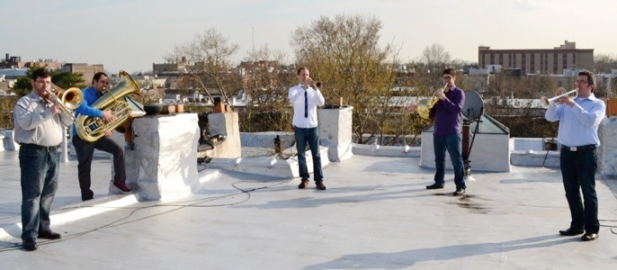 Brooklyn Brass Quintet
The Brooklyn Brass Quintet is five virtuosic musicians dedicated to the performance and creation of contemporary classical and alt-classical new music. The Brooklyn Brass Quintet is composed of Mike Gurfield, Matt Mead, Matt Marks, Sean Reed and John Altieri.
The ensemble works in a variety of combinations from traditional brass quintet, to accompanying vocal works, to theatrical performances, to multimedia settings. In addition to commissioning new works, its members actively write and arrange for the group. The Brooklyn Brass Quintet has toured internationally, been the ensemble-in-residence at the Banff Center for the Arts and Le Domaine Forget summer festivals, has given master classes in the USA and Canada, and can be regularly heard at such NY venues as The Kitchen, New York University, Greenwich House Music School, and many more.
The members of the Brooklyn Brass Quintet maintain active freelance careers within the vibrant New York music community.

© 2016 Music for Autism All Rights Reserved. Use of this website is governed by the
User Agreement
. The contents contained on this website is provided to users "AS IS" without any express or implied warranty. For information on your privacy, please read our
Privacy Policy
.
955 Clayton Street, #1, San Francisco, CA 94117 | (646) 964-6487