Artists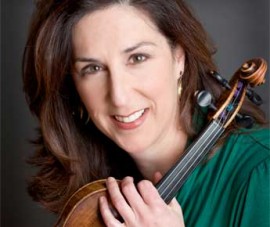 Bonnie Bewick
A member of the Boston Symphony since 1987, Bonnie Bewick attended the University of Michigan in Ann Arbor and earned her bachelor's degree in music in 1986 from the Curtis Institute of Music. Prior to joining the Boston Symphony Orchestra, Bonnie won a position with the Columbus Symphony and participated in summer music festivals at Interlochen, Spoleto, the Colorado Philharmonic, and the Grand Tetons. She has made solo appearances with a number of West Coast orchestras, and with the Boston Pops under John Williams and Keith Lockhart as well as the New England Philharmonic and the Cape Ann Symphony in New England. While trained as a classical violinist, bringing many forms of traditional and folk music to classical audiences has become her passion. With that purpose in mind she formed the group "Classical Tangent" in 2007, comprised of BSO members and other traditional musicians. This venture has been enthusiastically received by audiences at Symphony Hall, around Boston, and in the Berkshires, with a featured performance in June 2010 with the Boston Pops under Keith Lockhart. Since then, Bonnie has formed the duo "Frame" (frame-music.com) with her brother, guitar player and songsmith Ken Bewick; they released their first CD in March 2013. Bonnie also plays folk music with the group Childsplay (www.childsplay.org), leads Orchestra Audition seminars all over the country, and teaches privately. When she finds herself with extra time on her hands, cooking with her brother, Ken, is one of her favorite pastimes, as is playing golf. She is married to Michael Brown and has two fabulous sons, Andrew and Kevin.

© 2016 Music for Autism All Rights Reserved. Use of this website is governed by the
User Agreement
. The contents contained on this website is provided to users "AS IS" without any express or implied warranty. For information on your privacy, please read our
Privacy Policy
.
955 Clayton Street, #1, San Francisco, CA 94117 | (646) 964-6487