Artists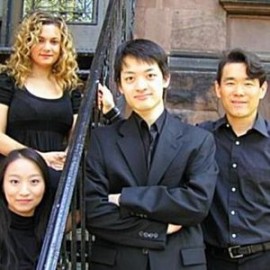 Aurista Chamber Music
Aurista Chamber Music is a performing ensemble dedicated to bringing classical, new and contemporary art forms in an accessible and artistically powerful medium: music.  We have performed at the American Museum of the Natural History, Yale Club, 92nd Street Y, Juilliard, New York University, Mannes, City College, and countless schools, universities, JCC's, churches, and nursing homes as a part of our mission to connect with audiences of all types of backgrounds in the effort to bring music in relevant and meaningful to all who come in contact with us.  We work actively with composers and living musicians along with the Bach, Beethoven and traditional repertory.  Most importantly, we try to bring smiles to the faces of our audiences and it seems to be working.  Kids give us group hugs and high fives, our elders tell us their stories of what music means to them, and our peers keep us busy, very busy!  In any case, we are so pleased to be appearing for Music for Autism again and the programs and audiences they bring us in contact with continues to be a highlight of our many tours!

© 2016 Music for Autism All Rights Reserved. Use of this website is governed by the
User Agreement
. The contents contained on this website is provided to users "AS IS" without any express or implied warranty. For information on your privacy, please read our
Privacy Policy
.
955 Clayton Street, #1, San Francisco, CA 94117 | (646) 964-6487