Artists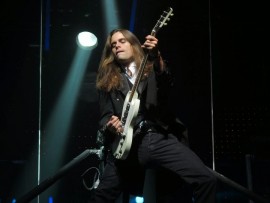 Andrew Ross
Andrew attended Catawba College in Salisbury, NC where he received a BFA in Music Theater. He has since performed in over 50 theatrical productions and played in bands ranging from bluegrass to metal. In 2007, Andrew was asked to join the multi-platinum band, Trans-Siberian Orchestra. He has been a featured vocalist and instrumentalist with them ever since. Andrew currently resides in NYC and is involved in several music projects. He is the lead singer and founding member of the classic prog metal band, Daredevil Squadron. He has also joined forces with his favorite female vocalist of all time, Chloe Lowery to form electro-pop/rock inspired band C H A M E L E O N.

© 2016 Music for Autism All Rights Reserved. Use of this website is governed by the
User Agreement
. The contents contained on this website is provided to users "AS IS" without any express or implied warranty. For information on your privacy, please read our
Privacy Policy
.
955 Clayton Street, #1, San Francisco, CA 94117 | (646) 964-6487