Artists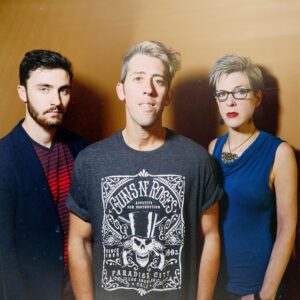 9 Horses is an improvising chamber ensemble featuring Joe Brent (formerly of Regina Spektor's band) on acoustic and electric mandolin, 2018 GRAMMY nominee Sara Caswell (Esperanza Spalding) on violin and Hardanger d'amore, and Andrew Ryan (Kaia Kater) on bass. Featuring Brent's original compositions and the incendiary, genre-hopping virtuosity of all three members, the trio at the core of 9 Horses represents Brent's dual vision of a musical future with no barrier between the old notions of 'folk art' and 'fine art', and an ensemble capable of communicating this idea through musical canvases both great and small.
Originally formed in 2012 as a duo between Brent and Caswell, 9 Horses expanded to a trio the following year and in 2015 released its debut album Perfectest Herald (Sunnyside Records), a title drawn from Much Ado About Nothing ("Silence is the perfectest herald of joy: I were but little happy, if I could say how much.") The centerpiece of the album is a 4-movement suite for the acoustic trio alone which takes the listener on a searing journey through tragedy, triumph, and renewal. Budd Kopman wrote in All About Jazz: "Brent's music is just bursting with emotion and its immediacy is partly what makes it so attractive and inviting. This highly emotive music touches and communicates the essence of what it means to be an alive, feeling human being."
In 2019, they released a 4-song EP called Blood From A Stone, showcasing their development as an ensemble. Featuring their experiments with electronic music, collective improvisation, and influences from rock, jazz, and hip-hop, Blood From A Stone was called, "extraordinary," and, "a sound world that crashes together acoustic and electric textures with composed and improvised performances," and functioned as the sandbox 9 Horses played in to prepare for their upcoming release, scheduled for late 2020.
9 Horses has performed and given workshops across the USA and internationally, and was recently named the winning ensemble in the 21CM LAUNCH: Emerging Artists competition. They have completed residencies at Michi Wiancko and Judd Greenstein's Antenna Cloud Farm, University of Arkansas Little Rock/ACANSA Festival, DePauw University, Illinois State, University of Colorado Mesa, University of Denver, Ball State, Baldwin Wallace Conservatory, University of Northern Colorado, Francis Marion University, Kenyon College, and UNC Wilmington.