Susan Hershman, M. Ed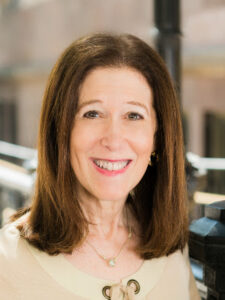 Susan Hershman is an Early Childhood Specialist working with children, parents, teachers and other professionals.  She worked as an Adjunct Professor at New York University with undergraduates in the Early Childhood and the Early Childhood Special Education program for 14 years.  She also supervised student teachers from New York University in their fieldwork placements.
Susan taught in the Parenting Center of the 92nd Street Y for over 25 years where she taught New Mother, New Baby, Little Explorers and facilitated groups for toddlers and parents and caregivers. She has taught kindergarten, first grade and second grades in both public and private schools in Rochester, New York, Shaker Heights, Ohio and in New York City. She has worked at two nursery teachers as a Child Development Specialist.
Susan received her Master's degree in Education from the Harvard Graduate School of Education with a concentration in Reading.  She also earned her undergraduate degree in Child Development at Tufts University.  Susan has been a guest speaker at several schools, colleges and educational conferences. She has attended a North American study group in Reggio Emilia, Italy in November, 2013 and she is very passionate about this philosophy. She has visited many Reggio inspired schools in different cities and countries and attends symposiums through Teaching Beyond the Square.
Susan is a board member of Music for Autism, a nonprofit organization that provides Autism-friendly concerts to individuals with Autism. Susan and her family have been attending Music for Autism concerts since they started in 2007. She values the importance of providing Autism friendly concerts for individuals with Autism, their loved ones and families.
Susan has been directing a home-based program for her adult son who is on the Autism Spectrum for the past 19 years. Susan is also a board member for Individuals and Families through Care Design NY which focuses on individuals with developmental disabilities. She attends many advocacy meetings and is actively involved in helping those with special needs.
During the summer of 2019 Susan began volunteering in the Harlem Playspace and Learning Center in a pilot program.  This spring it changed to a virtual program due to the pandemic. Susan became an Educational Coordinator at the Children's Storefront Virtual Learn and Play Group. She has been working on creating Zoom sessions in a pilot study for ages birth – 3 years using early brain research studies from the Center of the Developing Child at Harvard University.  This program is expanding.
Susan is married with two sons and a daughter in law and lives in New York City. Her passions include children's books, teaching, dancing, exercising, being in nature and reading.