Sue Booker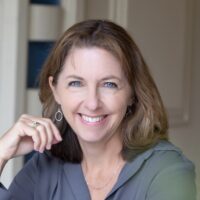 Sue Booker is a designer, artist, and passionate accessibility advocate in the San Francisco Bay Area. She brings 35+ years of product development expertise to the table, more than 15 years of which were at Apple in Cupertino, CA. She's led numerous design teams and created innovative, inclusive experiences on products we all carry in our pockets or have in our homes. Her work involves the whole customer journey, with the goal of meeting people where they are in that moment — both physically, emotionally, and cognitively.
Sue was the first user experience designer and industrial design manager for the Apple Newton early in her career, and after 5 years pivoted to start her own consultancy. She's had design & management roles since then at IDEO, Yahoo, Nokia, and several startups. In 2010 she returned to Apple, where she led teams in the area of Health & Wellness, and spearheaded efforts to make Siri accessible and inclusive. Sue also has extensive experience designing software for internal operations, such as retail, sales, and finance, as well as user testing & UX research.
She graduated cum laude from the University of Michigan with a BFA in Industrial Design, and has been a speaker at numerous technical, accessibility, and high profile events & conferences throughout her career. Sue holds 13 US patents and has worked on products in production her entire career (e.g. iPhone, with nearly 2 billion devices sold, and 1+ billion currently active).
Recently, after a long career in corporate settings, Sue left Apple to focus on several other life goals and interests. She still is very passionate about numerous creative endeavors, and is now involved in these pursuits from a new vantage point.