Sarah Dobkin, LCSW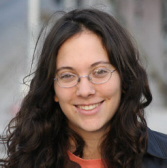 Sarah is an Early Childhood Mental Health Consultant and Program Manager at StarVista in San Mateo County, California. In this role, she supports teachers and families in early learning settings, like preschools and infant/toddler centers.
Sarah completed her masters degree in social work at Columbia University School of Social Work in 2010. Prior to that, she worked in scientific publishing after graduating cum laude in English from Princeton University in 2006. While at Princeton she played on the Ultimate Frisbee team and sang in the Jewish a cappella group, Koleinu. Sarah now lives in San Francisco with her husband (and former M4A Junior Board Member) Ed Davisson.

© 2016 Music for Autism All Rights Reserved. Use of this website is governed by the
User Agreement
. The contents contained on this website is provided to users "AS IS" without any express or implied warranty. For information on your privacy, please read our
Privacy Policy
.
955 Clayton Street, #1, San Francisco, CA 94117 | (646) 964-6487