Nick Bailey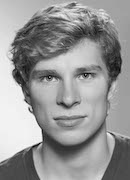 Nick Bailey is an Actor and Musician based in New York City. His credits include Broadway: Casa Valentina. Off-Broadway: American Psycho, Hit The Wall, Moonlight and Lovesongs. Regional: World Premiere of The Bridges of Madison County, Tripolitania, Becoming Sylvia (Williamstown Theatre Festival). Television/Film: "Red Oaks", "The Americans", "As The World Turns", The Outskirts, A Most Violent Year. He holds a BFA in Drama from the University of North Carolina School of the Arts and has composed for both commercials and feature films in addition to performing as solo artist. Before pursuing acting Nick was Director at Camp Good News: Maranatha in North Carolina, a Evangelical tuition-free summer camp and retreat center serving underprivileged and at risk children. He also enjoys serving with the Big Brothers Big Sisters organization of NYC as a mentor. Nick is also the proud Uncle to 11 nieces and nephews.

© 2016 Music for Autism All Rights Reserved. Use of this website is governed by the
User Agreement
. The contents contained on this website is provided to users "AS IS" without any express or implied warranty. For information on your privacy, please read our
Privacy Policy
.
PO Box 1136 New York, NY 10113 | (646) 964-6487