Matt Wilson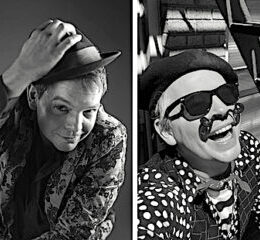 Manolo Blank/Matthew Wilson is the Emmy award-winning host of Cyberchase, TED speaker, university instructor and former medical clown with the Big Apple Circus. As a supervising medical clown with the first professional clown doctor program in the United States, he brought joy and delight to critical care environments in the top research hospitals in the country. He recently garnered viral internet acclaim for officiating a "window wedding" in the age of social distancing, featured in The Advocate. After developing the training program for Music for Autism concert MCs, he's thrilled to be hosting the M4A virtual series. He also swallows swords.

© 2016 Music for Autism All Rights Reserved. Use of this website is governed by the
User Agreement
. The contents contained on this website is provided to users "AS IS" without any express or implied warranty. For information on your privacy, please read our
Privacy Policy
.
955 Clayton Street, #1, San Francisco, CA 94117 | (646) 964-6487