Marcia Cantarella, PhD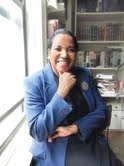 Marcia Cantarella, president of Cantarella Consulting, has been an associate dean at Hunter College, a dean at Princeton University and part of the dean's staff at New York University's College of Arts and Science. In these roles, she has been responsible for academic advisement, career development, preparation for postgraduate fellowships, development of diversity programs and strategies to enhance students' academic experience and outcomes. Drawing on 15 years of corporate experience gained as a director of both public affairs and marketing at Avon Products, she has effectively addressed communications challenges, financial and strategic planning in a higher education environment. As vice president of Student Affairs at Metropolitan College of New York, she was responsible for web development and rebranding the college, as well as overseeing admissions and student services. In each of these roles she has also engaged in fundraising and philanthropic activities.
Her new book I CAN Finish College: The Overcome Any Obstacle and Get Your Degree Guide guides students from the moment they start thinking about college through every step of the process right on to graduation.
Her current consulting projects and clients include the Hunter College Black Male Initiative, Kingsborough Community College, The One Club and Saint Augustine's College. She has also done work for UNCF and serves on the advisory board for the Eagle Academy Schools.
She holds a doctorate in American Studies with a focus on American business, and has taught courses relating to working and consuming in America at Princeton, Hunter College and New York University.
Dr. Cantarella has served on numerous non-profit boards, advisory boards and committees across many sectors. She has spoken, written, consulted and provided training on leadership, entrepreneurship, work and family issues and diversity issues at Catalyst, for varied corporations, and at the Stern School of Business at NYU. She has been honored by an array of community organizations including the Harlem YMCA, the Links, Inc., and the Congress of Italian American Organizations. She has also been listed in Who's Who and been published in Vital Speeches.
Dr. Cantarella graduated with honors from Bryn Mawr College and holds masters and doctoral degrees from NYU in American Studies.