Kathie Koo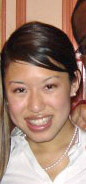 Kathie is an analyst at a $4.5 billion investment fund, where she focuses on consumer and retail companies. She began her career at JPMorgan in New York as an Investment Banking Analyst. As an alto, Kathie has sung with the Young New Yorkers Chorus as well as with the Harvard Radcliffe Veritones and the Radcliffe Choral Society. Active in her community, Kathie serves as a mentor with StreetWise Partners, helping low-income individuals develop workplace skills as the bridge to a successful career. Kathie is a member of Asia Circle, the young patrons division of The Asia Society.
Kathie graduated with honors in Government from Harvard University in 2004.

© 2016 Music for Autism All Rights Reserved. Use of this website is governed by the
User Agreement
. The contents contained on this website is provided to users "AS IS" without any express or implied warranty. For information on your privacy, please read our
Privacy Policy
.
955 Clayton Street, #1, San Francisco, CA 94117 | (646) 964-6487