Jennie C. Nolon, Esq., MEM, LEED AP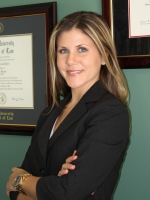 Jennie, an attorney at the Land Use Law Center of Pace University School of Law, focuses her work on urban development, planning, and design. In addition to helping cities address obstacles to revitalization and sustainability, she also manages student research projects and writes on legal issues pertaining to land use, real estate and the environment. Jennie graduated cum laude from Cornell University with a Bachelor of Science degree in 2003. In 2008, she received her Master of Environmental Management degree from Yale University with an advanced concentration in Urban Ecology and Environmental Design and her JD cum laude from Pace University School of Law. Jennie has also achieved designation by the United States Green Building Council as a Leadership in Energy and Environmental Design Accredited Professional (LEED AP), making her one of fewer than 40 LEED APs in New York State registered in the area of legal practice. An avid athlete and musician, Jennie minored in Film and Theater in college, and has performed in plays throughout her life. She has an outstanding record of volunteerism for both environmental and health care causes, and a keen interest in autism and related developmental disabilities.

© 2016 Music for Autism All Rights Reserved. Use of this website is governed by the
User Agreement
. The contents contained on this website is provided to users "AS IS" without any express or implied warranty. For information on your privacy, please read our
Privacy Policy
.
955 Clayton Street, #1, San Francisco, CA 94117 | (646) 964-6487