James Kirk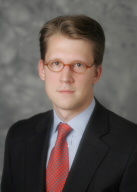 James Kirk is a Vice President with Corsair Capital Partners, where he focuses on private equity buyouts of financial institutions. He began his career in investment banking at JPMorgan where he worked on mergers and acquisitions, equity and debt transactions across a range of industries including healthcare, consumer and retail. In college James sang baritone with the Princeton Tigertones and has performed in musicals throughout his life. Raised in Tokyo, James continues his interest in Japanese culture and the arts through the 333 Club, the young patrons division of the Japan Society. James graduated cum laude in Economics with a minor in East Asian Studies from Princeton University in 2003.

© 2016 Music for Autism All Rights Reserved. Use of this website is governed by the
User Agreement
. The contents contained on this website is provided to users "AS IS" without any express or implied warranty. For information on your privacy, please read our
Privacy Policy
.
955 Clayton Street, #1, San Francisco, CA 94117 | (646) 964-6487