Hetanshi Naik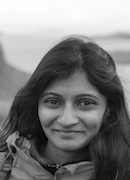 Hetanshi Naik is a genetic counselor at the Icahn School of Medicine at Mount Sinai, where she manages a national rare disease consortium, coordinates clinical research for rare diseases, and teaches genetic counseling students.
Hetanshi received her Master's in Genetic Counseling from Mount Sinai in 2010. She is originally from Canada, where she attended McMaster University and graduated with honors in 2008 with a Bachelor's of Science, specializing in genetics.

© 2016 Music for Autism All Rights Reserved. Use of this website is governed by the
User Agreement
. The contents contained on this website is provided to users "AS IS" without any express or implied warranty. For information on your privacy, please read our
Privacy Policy
.
955 Clayton Street, #1, San Francisco, CA 94117 | (646) 964-6487