Angela Diaz, MD MPH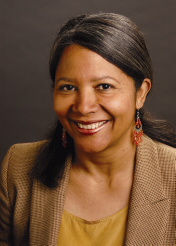 Angela is the Jean C. and James W. Crystal Professor of Pediatrics at Mount Sinai School of Medicine and Director of the Mount Sinai Adolescent Health Center. After earning her medical degree in 1981 at Columbia University College of Physicians and Surgeons, she completed her post-doctoral training at the Mount Sinai School of Medicine in 1985 and subsequently received a Master in Public Health from Harvard University. Angela has been providing direct medical services to children and adolescents for more than 25 years.
Angela is the Director of the Mount Sinai Adolescent Health Center, a unique program that provides comprehensive, integrated, interdisciplinary primary care, reproductive health, mental health and health education services to teens. Under her leadership, the Adolescent Health Center has become the largest adolescent health center in the U.S., caring for thousands of teens every year. Any teenager who comes through the Center's doors is provided the best care available – at no cost.
Angela is President of The Children's Aid Society Board of Trustees. She has served on the Board of Trustees of The Children's Aid Society for 13 years, including serving for eight years as Vice President.
Angela has published numerous articles on topics including child and adolescent sexual abuse, adolescents' access to health care, and health services for immigrants.
Among her many accomplishments, Angela has been a White House Fellow, has been named numerous times as one of the Best Doctors in New York by New York Magazine, and is listed in America's Top Doctors and the Guide to America's Top Pediatricians. She was also awarded the American Academy of Pediatrics Founders of Adolescent Health Award in 2001.
Angela received the Alexander Richman Commemorative Award for Ethics and Humanism in Medicine from the Mount Sinai School of Medicine and the Dr. Sidney Grossman Humanitarian Award from the Mount Sinai School of Medicine Alumni Association. She is a member of the Food and Drug Administration (F.D.A.) Pediatric Advisory Committee as well as the New York City Board of Health; she served with the National Institutes of Health (N.I.H.) State of the Science Conference on Preventing Violence and Related Health Risk Social Behaviors in Adolescents; and she chaired the National Advisory Committee on Children and Terrorism.