Virtual Concert with Eleni Katz
---
September 24, 2022
YouTube Livestream
We welcome all individuals with autism and their families across the nation to attend our interactive concerts from their homes.
11 am Pacific / 2 pm Eastern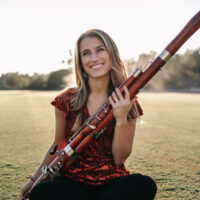 An Iowa native, bassoonist Eleni Katz is a passionate soloist, chamber musician, and orchestral player, dedicated to exploring the intersection of bassoon, voice, poetry, and multimedia in virtual/live recital settings. In performance, she works with orchestras across the United States.
Recent highlights include winning Yale's Woolsey Hall and UW-Madison Symphony's concerto competitions, as well as the Irving Shain Woodwind Piano Duo competition.
Join this Music for Autism newcomer for another electrifying concert!
Please RSVP using the form below. If you have any trouble using this form, you can RSVP by emailing rsvp@musicforautism.org.