In-Person Concert with Boomtown Brass
---
October 14, 2023
The Westview Shool
11AM – 12PM
The Westview School
1900 Kersten Dr., Houston, TX 77043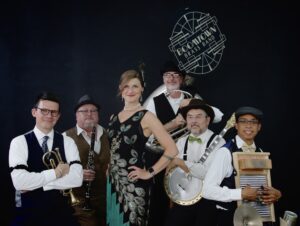 Boomtown Brass Band is steeped in the traditions of authentic 1920s hot jazz. The Boomtown sound begins with the classic New Orleans jazz style, travels north to include Chicago's "dixieland" style, visits the early 1930s "gypsy jazz" guitar style, and finally adds in a touch of New Orleans second line for good measure.
Boomtown Brass Band is known for making great music. They keep the origins of jazz alive, dancing, singing, and celebrating in Houston.
Join them as they make their Music for Autism debut!
Please RSVP using the form below. If you have any trouble using this form, you can RSVP by emailing rsvp@musicforautism.org.