In-Person Concert with Quintango
---
November 11, 2023
Ivymount School - Rockville, MD
1PM – 2PM
11614 Seven Locks Rd,
Rockville, MD 20854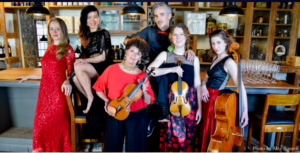 Hear the heartbeat of classical Argentinian tango channeled by a quintet of top-notch female chamber musicians and their crackerjack bandoneon player! This is tango like you've never imagined it: classical chops, jazz harmonies, and intimate arrangements written for the group by outstanding composers in Buenos Aires. 'Chamber tango' is the result of this musical alchemy, a middle ground that draws in lovers of both classical and non-classical music to experience the fullness of life—the stories, the culture, and the exhilaration of tango.
Join us in welcoming Quintango back to Music for Autism!
Please RSVP using the form below. If you have any trouble using this form, you can RSVP by emailing rsvp@musicforautism.org.