Virtual Concert with Duo Kayo
---
June 05, 2022
YouTube Livestream
We welcome all individuals with autism and their families across the nation to attend our interactive concerts from their homes.
11am Pacific / 2pm Eastern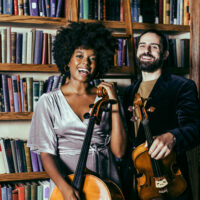 duo kayo packs a punch with cellist Titilayo Ayangade and violist Edwin Kaplan. With over 15 years of combined professional experience as members of the Thalea and Tesla String Quartets, this new and unusual ensemble is here to make a statement. Passionate about commissioning new works as well as championing the unsung heroes of the classical repertoire, the duo regularly hosts private live streams and performs live across the Northeast corridor.
Praised for their vibrancy and joyful musical expression, duo kayo is a modern ensemble here to be a vehicle for new music and new ways of thinking about music. Join them for their Music for Autism debut!
Livestreamed on our YouTube page!
Email Laura@MusicforAutism.org to RSVP.
Registrants will receive a link to the private livestream two hours prior to the concert. You must RSVP to receive the link.