Virtual Concert with Empire Wild
---
January 29, 2023
YouTube Livestream
We welcome all individuals with autism and their families across the nation to attend our interactive concerts from their homes.
11 am Pacific / 2 pm Eastern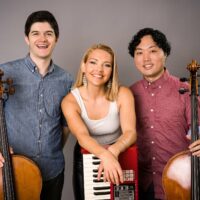 Empire Wild grew out of a love for musical exploration. Together they've poured a love of pop, folk, fiddle, J-pop, rock, Broadway, EDM, American songbook, and so much more into song writing and composition.  Trying to figure out how to fuse these influences with their classical background is part of the fun.
Ken and Mitch bring all the cello has to offer – bowed, plucked, chopped and more. Holly can be found singing and pushing the piano into any style the group sets their mind on.
All classically trained, the three musicians met at Juilliard and formed Empire Wild as a vehicle for their love of musical exploration – fusing the sounds of pop, folk, Broadway and more into their songwriting and composition.
Join these Music for Autism faves!
Please RSVP using the form below. If you have any trouble using this form, you can RSVP by emailing rsvp@musicforautism.org.