Virtual Concert with Pianist Llewellyn Sanchez-Werner
---
January 14, 2023
YouTube Livestream
We welcome all individuals with autism and their families across the nation to attend our interactive concerts from their homes.
11 am Pacific / 2 pm Eastern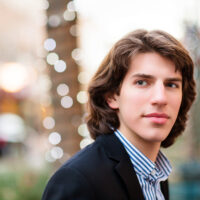 "Mesmerizing artistry and extraordinary ability to communicate" (The Post-Standard) and "masterful technique and a veritable deluge of sonorities" (La Presse Montreal), describe 24-year-old Llewellyn Sanchez-Werner for performances that have stirred the intellect and humanity of his audiences on five continents. His multi-faceted artistry has been featured on NPR, PBS, CNN International, the Wall Street Journal, and WDR-Arte. Committed to public service, he received the Atlantic Council Young Global Citizen Award recognizing his dedication to social action through music.
Join Llewellyn as he makes his Music for Autism debut!
Please RSVP using the form below. If you have any trouble using this form, you can RSVP by emailing rsvp@musicforautism.org.