Virtual Concert with Empire Wild
---
April 24, 2021
YouTube Livestream
We welcome all individuals with autism and their families across the nation to attend our interactive concerts from their homes.
11am Pacific / 2pm Eastern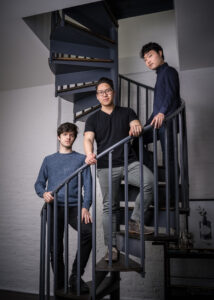 Empire Wild grew out of a love for musical exploration. Together they've poured a love of pop, folk, fiddle, J-pop, rock, Broadway, EDM, American songbook, and so much more into song writing and composition.  Trying to figure out how to fuse these influences with their classical background is part of the fun.
Ken and Mitch bring all the cello has to offer – bowed, plucked, chopped or… and Brandon plays anything he can get his hands on – often a cajon, sometimes a guitar or piano, maybe some ankle bells.
All classically trained, the three musicians met at Juilliard and formed Empire Wild as a vehicle for their love of musical exploration – fusing the sounds of pop, folk, Broadway and more into their songwriting and composition.